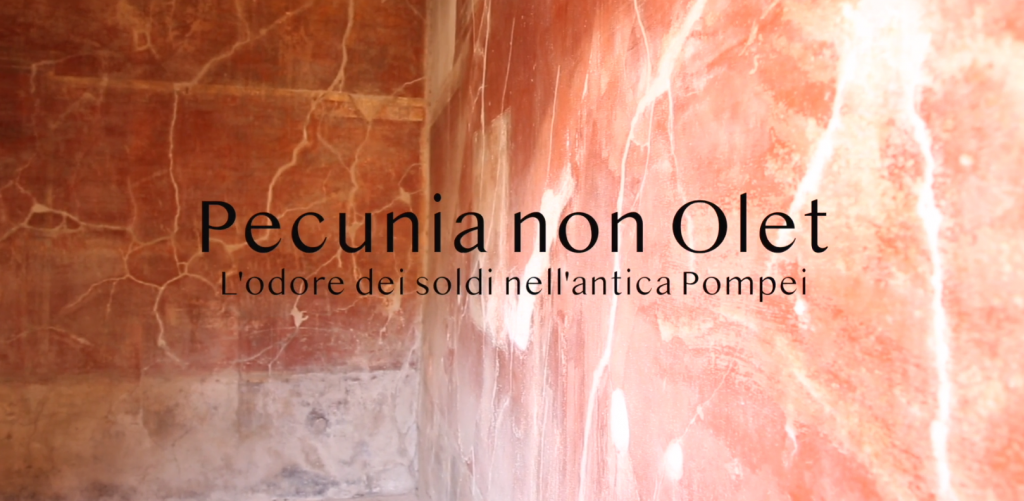 Pecunia non olet. L'odore dei soldi nell'antica Pompei.
TILE, Napoli; CNRS, Centre Jean Bérard; Parco Archeologico di Pompei
IT.
Pompei, come tante altre città dell'impero romano, viveva di traffici commerciali e di attività produttive. Generare ricchezza, soldi, valore, aveva anche un "effetto collaterale", se così possiamo dire: l'odore; il sudore degli schiavi, gli escrementi degli animali, la puzza di solventi come l'urina… il nostro naso di uomini del terzo millennio d.C. farebbe molta difficoltà a respirare per le strade di una qualsiasi località del mondo romano. Ma ovviamente non tutti gli odori emanati dalle attività produttive erano sgradevoli; il pane appena sfornato era delizioso da annusare e i profumi creati dalle abili mani degli artigiani usando fiori ed erbe erano una gioia per le narici! Come ci ricorda Jean Giono: «Gli Dei creano gli odori, gli uomini fabbricano i profumi».
La lunga collaborazione fra Nicola Barile e il CNRS-Centre Jean Bérard (e i direttori che si sono succeduti, Jean-Pierre Brun e Claude Pouzadoux) ha dato origine a questo originale racconto-documentario che tratta il tema dell'odore generato dalle attività produttive nell'antica Pompei. E ne valeva la pena, perché, come ci ricorda il poeta Edward Thomas: «Il passato è l'unica cosa morta che ha un dolce odore».
EN.
Pompei, as many ancient towns in Roman Empire, was favored by commercial and production activities. Producing money and wealth also had the side effect of creating smells: slaves' sweat, animals' excrements, the smell of solvents such as urine… Our third millennium men's nose would barely breathe along the streets of any ancient town. Of course, not all the smells spreading from production activity were bad. The bread just taken out of the oven was delicious, as the scents created by the expert artisans from plants and flowers! As Jean Giono said: «Gods make smells, as men create fragrances».
The long-lasting collaboration between Nicola Barile and CNRS-Centre Jean Bérard (and the directors Jean-Pierre Brun and Claude Pouzandoux) led to this original documentary-tale about the smells generated from production activity in ancient Pompei. It was worth doing such a job: the poet Edward Thomas wrote: «the Past is the only dead thing with a nice smell».