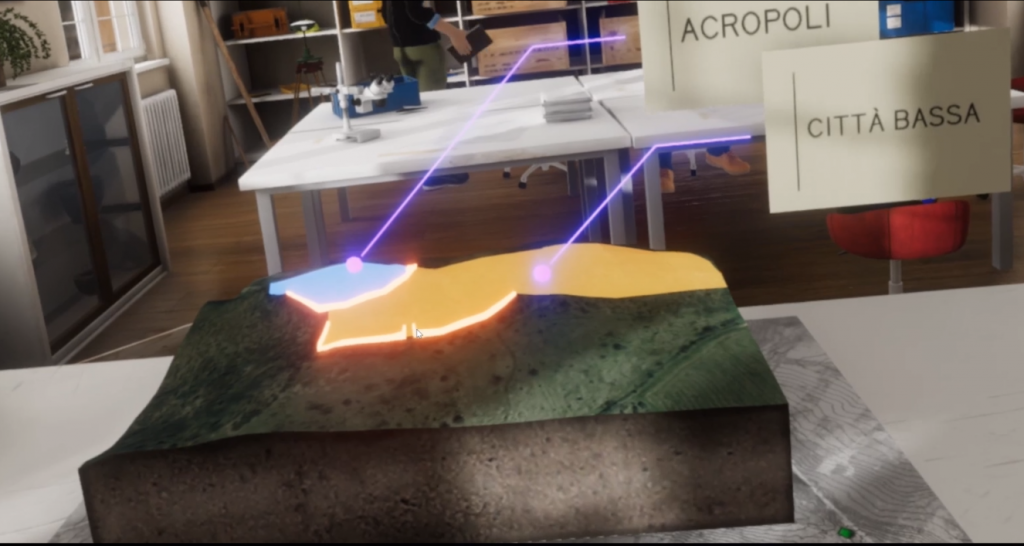 Pietragalla Experience
EFFENOVE SRL, Potenza; Univ. Paris 1 Panthéon-Sorbonne; Humboldt-Univ. Berlin; CNR-ISPC; Soprint. Archeologia Belle Arti e Paesaggio ella Basilicata; Regione Basilicata, Provincia di Potenza, Comune di Pietragalla, Unibas, Polo Museale Basilicata, APT Basilicata.
IT.
La DEMO Pietragalla Project VR Experience è un'esperienza in Virtual Reality (VR) dedicata alla ricerca archeologica e scientifica sul sito di Monte Torretta di Pietragalla (PZ), un insediamento d'altura lucano fortificato intorno al IV sec. a.C. L'opera è stata realizzata dalla società effenove srls in collaborazione con gli atenei Università Parigi 1 Panthéon- Sorbonne e Humboldt-Universität di Berlino e con la Soprintendenza Archeologia Belle Arti e Paesaggio della Basilicata, che negli ultimi hanno rilanciato una nuova stagione di ricerca archeologica sul sito. Il lavoro propone un punto di vista, quello dell'archeologo, che è un ponte tra chi entra nella storia con gli strumenti scientifici della ricerca e chi vuole comprenderla con spirito di conoscenza. Il viaggio immersivo ripercorre la storia della ricerca sul sito di Monte Torretta e mette l'utente davanti ai principali reperti collegati al sito e all'ipotesi ricostruttiva di Porta Marie, la grande porta d'accesso alla città fortificata.
EN.
The DEMO Pietragalla Project VR Experience is an app in Virtual Reality (VR) that allows an immersive experience similar to a journey in the archaeological and scientific research on the site of Monte Torretta in Pietragalla (PZ), a hilltop Lucanian settlement fortified around the IVth century AD. The work was carried out by the company effenove srls in collaboration with the Universities Paris 1 Panthéon-Sorbonne and Humboldt-Universität of Berlin and with the Superintendence of Fine Arts and Landscape of Basilicata, as they have recently opened a new season of archaeological investigation on the site. This work offers a particular point of view: the archaeologist's one, which is a bridge between those who approach history with scientific instruments typical of research and those who want to understand our roots with a curious spirit of knowledge.
The immersive VR trip retrace the history of research on Monte Torretta and puts users in front of the main finds connected to the site and the reconstructive proposition of Porta Marie, the main gateway to the fortified city.